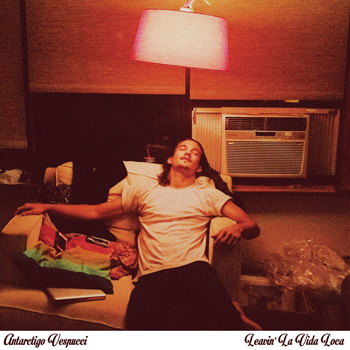 Is there a heaven in the sky for you and me?
Release Date: July 27th, 2015
Genre: Pop Rock, Surf Rock, Punk
For Fans Of: Fake Problems, Jeff Rosenstock, The Gaslight Anthem, Weezer, Greenday
Recommended Tracks: Impossible to Place, Living in Hell, Crashing Waves, I See Failure
Antarctigo Vespucci is something of a supergroup in my eyes. It's composed of Chris Farren (Fake Problems), Jeff Rosenstock (Bomb the Music Industry!), Benny Horowitz (The Gaslight Anthem), and sometimes Laura Stevenson. All horrible band names aside (seriously look up how they came up with the name) though, what Antarctigo Vespucci achieves is an insanely catchy and fun pop rock album with a depressing enough backbone to make it more intelligent and worthwhile than it's contemporaries.
Chris Farren's depressing songwriting and his plucky, upbeat vocals blend in well with Jeff Rosenstock's morbidly cheery instrumentation. The two create a dynamic combination of energy and passion that makes each and every one of their tracks unforgettable. I would say more, but I think the record should just speak for itself. That, and because it's late as hell here and I can't be assed to write something semi-professional for once.